PACE challenge
Why?
Develop your coding skills!
Learn about cool algorithms!
Write a Bachelor/Master thesis! Earn CP as a Forschungsprojekt or Praktikum! (Or just do this for fun!)
Who?
Students and researchers at any level can participate. You are strongly encouraged to work in a group.
What?
PACE is a yearly, international implementation challenge. This year's challenge is to identify and implement an efficient algorithm that finds the smallest Directed Feedback Vertex Set in a given graph. In Directed Feedback Vertex Set, the input is a directed graph and we are asked to delete as few vertices as possible to make the graph acyclic: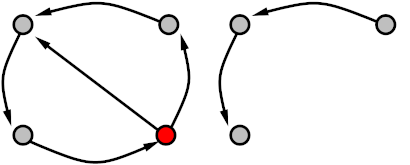 If you want, you and your team can submit the implementation to the PACE challenge. Your implementation will then compete with implementations written by other teams around the world.
Learn more about
How?
Register in Moodle (the password is turtle).
We will have regular meetings and build a small community.
The first meeting is in Mid-Late October. (date to be determined)
If you want to start familiarizing yourself with the topic, you can watch the videos of last year's Parameterized Algorithms course (in German) and read the corresponding book [pdf]. Relevant topics are: Kernelization, Bounded Search Trees, and Iterative Compression (that is, weeks 1 and 2 of the course). An algorithm for the Directed Feedback Vertex Set problem is described in Chapter 8.6. (Note that you will need to understand the prerequisites first, in order to understand the algorithm described in this chapter.)